Kazakhstan's meat producers shift their focus from Russia to Uzbekistan
The country is now the biggest source of meat products for its neighbor
Over the first six months of the current year, Kazakhstan cut its exports of cooled and frozen meat by 15%. However, thanks to high prices the total value of that export has risen by 35%. Another driver of this revenue growth is changing export destinations as Kazakhstani farmers are seeking new buyers. For example, they have started to supply much more meant and poultry to Uzbekistan and the United Arab Emirates, while exports to Russia dropped fourfold.
Kazakhstan was forced to cut its meat exports to Russia because the Russian authorized agency Roscelkhoznadzor banned Kazakhstani meat from entering the country on January 12. The official reason for the move was a threat of aphthous fever, a few cases of which were registered in the Karaganda region in early January.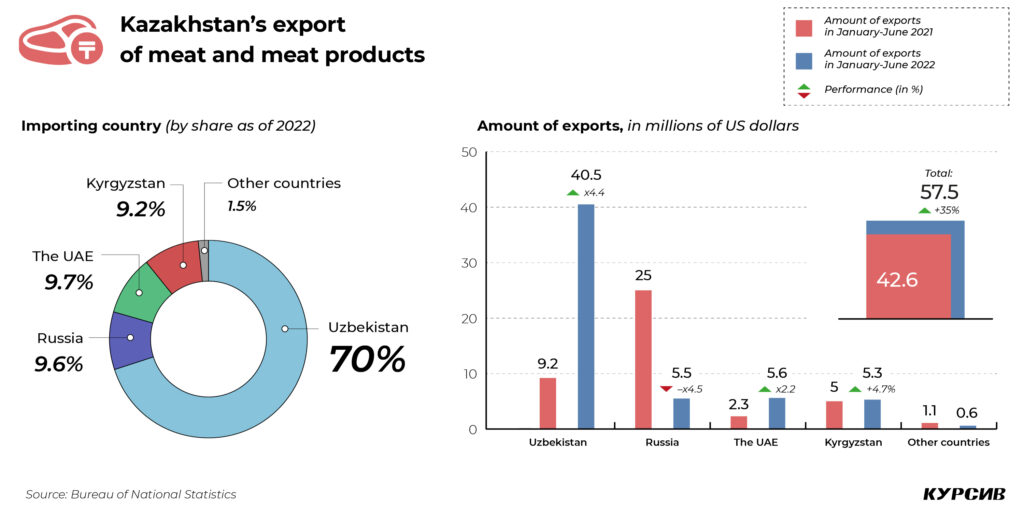 As a result, during this half year, Kazakhstani farmers were able to sell Russian buyers only 3,300 tons of meat. This is a fourfold drop compared to 13,500 tons of meat exported over the first six months last year. In terms of money, the drop was also fourfold. So far, Kazakhstani farmers earned $5.47 million from exports to Russia. In the same period last year, they made more than $25 million.
Nevertheless, Kazakhstani farmers have managed to keep the same amount of meat exports as Uzbekistan bought 4.5 times more meat from Kazakhstan than last year (10,000 tons in total). This allowed Kazakhstani producers to earn more than $40 million.
In general, Kazakhstan accounts for 31% of Uzbekistan's meat imports. According to the State Committee of the Republic of Uzbekistan on Statistics, the country imported $129 million worth of meat products over the first six months of the year.
The market capacity in Uzbekistan is quite big, therefore Kazakhstan may increase its meat exports to this country even further as more and more new Kazakhstani producers are getting their permission to supply meat products to Uzbekistan. The State Committee of Veterinary and Livestock Development of Uzbekistan said that there are 57 companies from Kazakhstan (19 more than last year) which have been put on the list of foreign meat suppliers, including Makinsk Poultry Plant, Astana Agroproduct, Aktobe Meat Cluster and even small livestock farming businesses. Additionally, Kazakhstan has increased twofold its meat exports to the United Arab Emirates. Over the first six months of the year, this country bought $5.6 million worth of meat products which is comparable to the amount of meat exports to Russia and Kyrgyzstan. This was made possible by an official visit of President Kassym-Jomart Tokayev to the UAE in July when bilateral trade agreements were signed.
Follow us on Google News