President Tokayev attends the UN session in New York
Kazakhstan has also signed a set of agreements with American businesses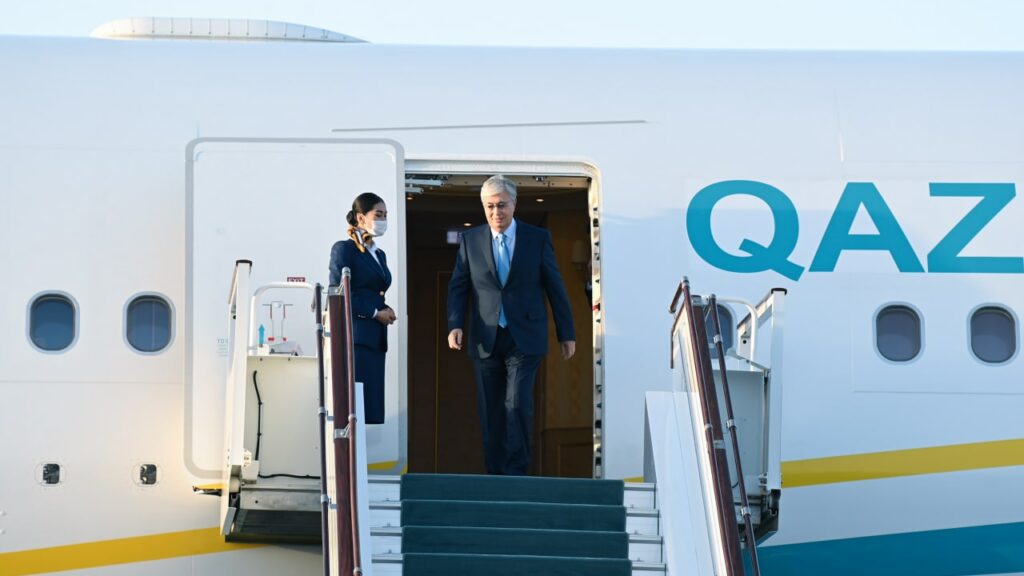 On September 19-21, 2022, President Kassym-Jomart Tokayev traveled to New York, where he had multiple speeches, met various people and signed different agreements. Let's take a closer look at those achievements.  
Right after Tokayev's arrival in New York, he took part in the breakfast business meetings with executives of global financial institutes, including Citi, Goldman Sachs, NASDAQ, Auerbach Grayson & Company LLP, Franklin Templeton, Brightlight Capital, AllianceBernstein, Jefferies Financial Group, Luxor Capital Group, Paine Schwartz Partners LLC, New Silk Road Forum, Robotti & Company Advisors, TPG Capital and Grupo Los Grobo.
These meetings become an excellent platform for Tokayev to convincingly present Kazakhstan as an attractive place for investments. For example, he talked about the National Welfare Fund Samruk Kazyna, which is going to sell some of its assets on the open market.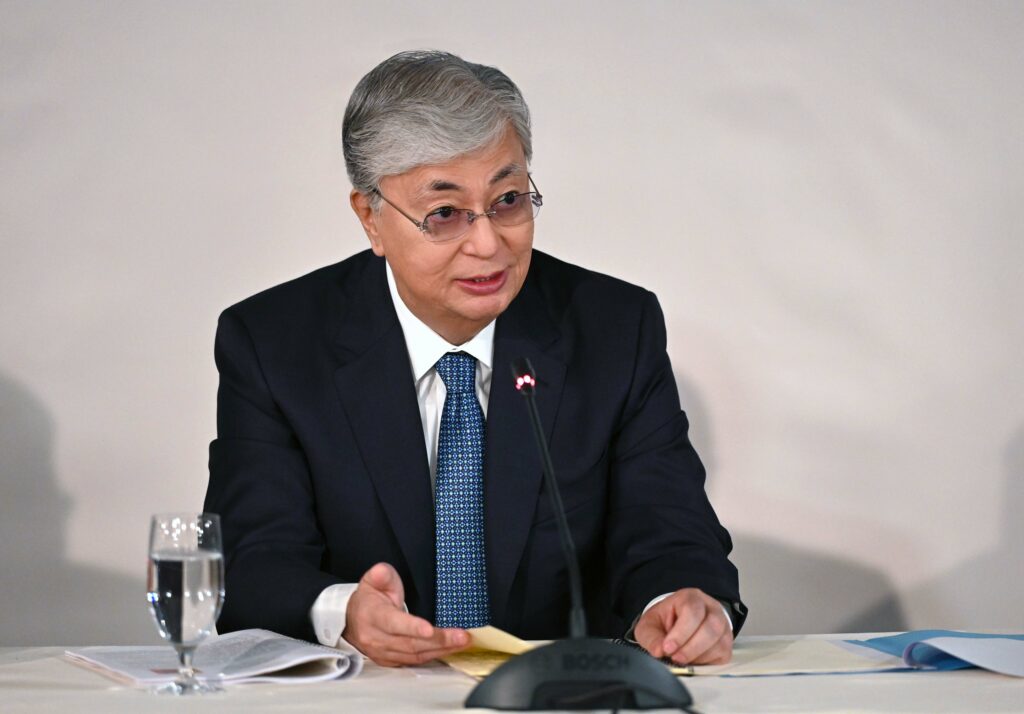 The president has also presented the huge potential of Kazakhstan in terms of energy, green economy, transportation and logistics, agriculture and business (through the Astana International Financial Center). He especially highlighted his government's eagerness to provide American businessmen and investors with full support.
Meetings
While meeting with Jenny Johnson, president and chief executive officer of Franklin Resources, a global investment firm that manages more than $1.5 trillion worth of assets, Tokayev talked about potential projects in Kazakhstan. They also shared their views on the further development of the global economy and financial market.
During the meeting with Gustavo Grobocopatel from Grupo Los Grobo and Ricardo Hausmann from the Center for International Development, President Tokayev discussed perspectives of cooperation in agriculture.
At the meeting with Arkadiy Dobkin, CEO of EPAM Systems, which is one of the leading global software companies and providers of digital services, Tokayev discussed what steps Kazakhstan can take in order to develop its human capital and establish a fully operational technological hub in the country.
The president also met with Jeff Maggioncalda from Coursera. During the meeting, they discussed various issues related to education, public services and universities. Coursera is one of the leaders in the sphere of education and teaching new skills.
While meeting with Ed Emerson, head of the commodity desk at Goldman Sachs, President Tokayev discussed investment projects that might be implemented in Kazakhstan. They talked about the energy sector in particular.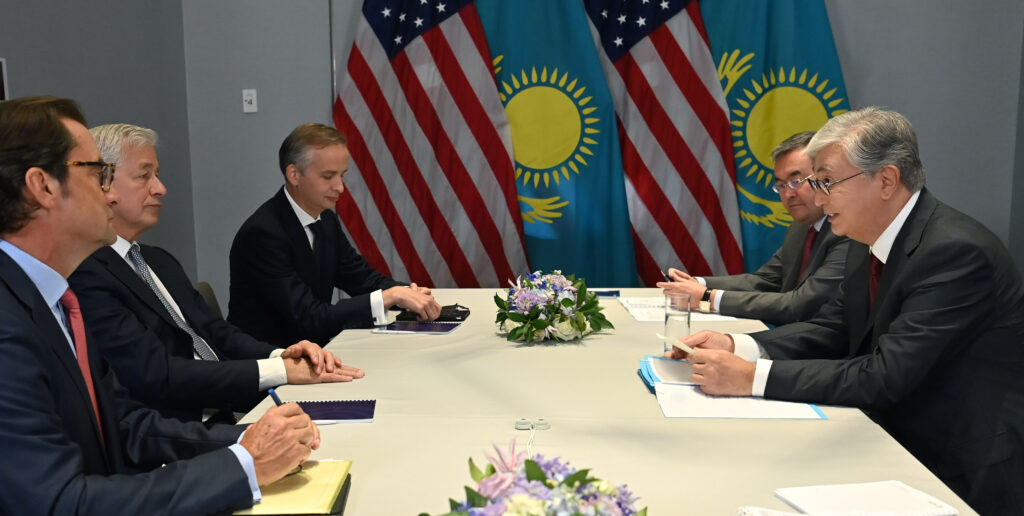 Further, Tokayev met with Jamie Dimon, CEO of JPMorgan Chase & Co., who shared his vision about cooperation in the financial field. He also discussed the issues linked to energy security and increasing competitiveness of Kazakhstan on the international economic stage President Tokayev discussed with Daniel Yergin from S&P Global.
Another well-known American company Microsoft said that it is considering expanding its business in Kazakhstan. According to Michelle Simmons, head of Microsoft's Multi-Country subsidiary in Central and Eastern Europe, the company wants to open a lab in Kazakhstan in order to teach local IT specialists with more advanced skills.
In addition, President Tokayev has met with the President and CEO of General Electric International Markets Nabil Habayeb. This company is going to produce some of its medical equipment in Kazakhstan. For example, GE plans to launch a new production line to produce ultrasound machines and computer tomography scans.
What agreements were signed?
After a round of meeting with leading figures of the business world, Kazakhstani officials signed various agreements with big American companies.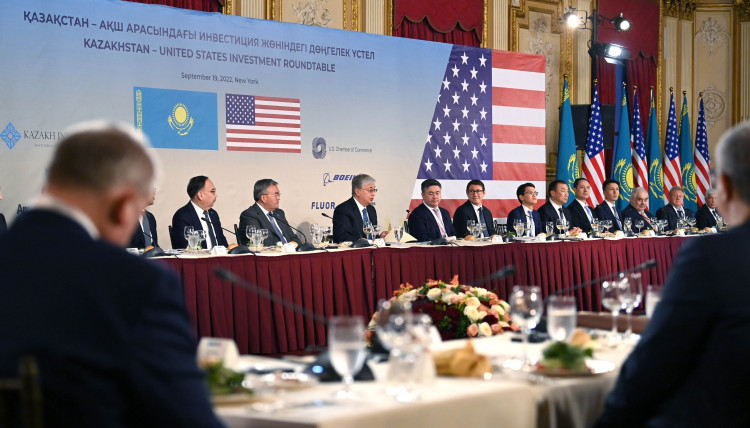 Thus, Samruk Kazyna and General Electric signed an agreement on cooperation to exchange experience in developing electricity-generating sites.
Kazakhstan Railways and Wabtec Corporation have signed an agreement on cooperation in the production, supply and service of locomotives. The two sides also agreed to introduce digital solutions and green technologies in the sector. The last task is going to be implemented by using сompressed natural gas as fuel for locomotives.
Kazakh Invest and General Electric have also signed a memorandum of understanding in the development and implementation of investment projects in Kazakhstan, including producing the company's medical equipment inside the country.
Kazakh Invest has also signed a memo of understanding with Pfizer as Kazakhstan wants to produce the US-developed pneumococcal vaccine within the country.
Another Kazakhstani company QazaqGaz has signed three agreements with Americal giants. One of them is with Honeywell. The document is aimed at facilitating local production of specific equipment for the gas industry and providing proper training to the personnel.
Baker Hughes is going to give maintenance to all gas equipment in Kazakhstan under the agreement with QazaqGaz. The company will also teach Kazakhstani specialists its advanced technologies to generate electricity from gas with a minimal carbon footprint.
The third agreement signed by QazaqGaz is a memo on industrial operations in gas fields; providing consultative services via InSight, a remote control system; updating current compressing stations and expanding gas pipelines.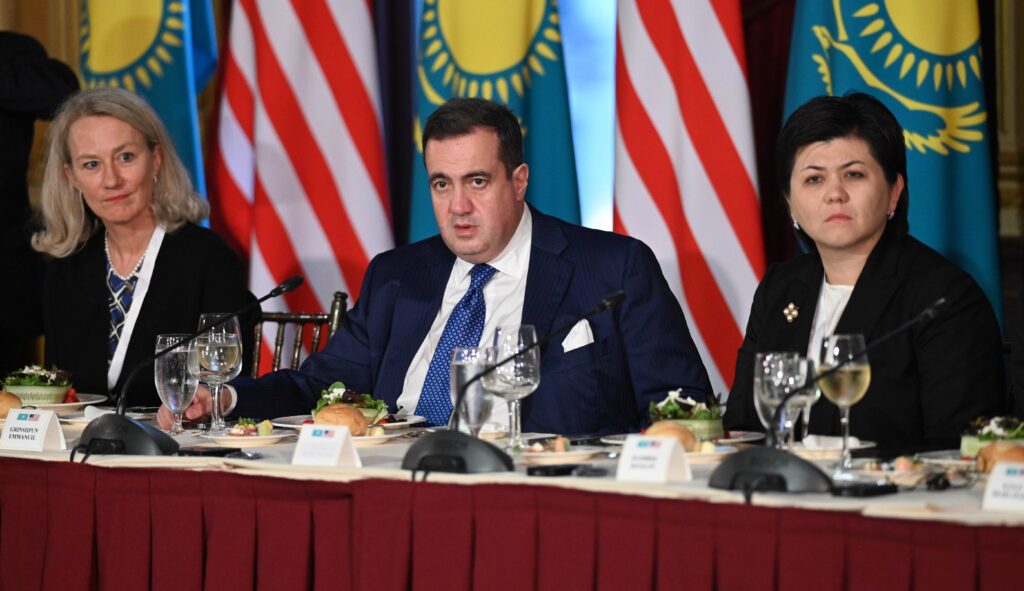 Details…
According to Bagdat Musin, the minister of digital development and aerospace industry, Kazakhstan is interested in cooperating with leading U.S. tech giants.
«Along with the president, I met with representatives of big IT companies such as Microsoft, EPAM and Coursera. Our country is interested in the intensification of cooperation with these tech giants, especially in the sphere of education and some other spheres,» he wrote on Facebook.
Among EPAM's partners are more than 160 universities in ten countries. Since 2011 the company has run a lab at the Karaganda State Technical University. So far, it has taught about 3,500 IT specialists there and now the government wants to expand this training program.
«We also want to cooperate with Coursera in order to launch some training courses in the Kazakh language. We are going to negotiate with the Ministry of Education to make these future courses equal to regular educational programs. We have also discussed the possibility of preparing courses aimed at improving public services and expanding skills of the people of Kazakhstan,» the minister said.
Kazakhstan also wants Microsoft to collaborate with local players in the sphere of innovation and expand its business in the country.
«We have suggested transforming Microsoft's office in Kazakhstan to Microsoft Central Asia. In addition, the company may want to open a training center for IT specialists in our country,» Musin said.
The U.S. has been one of the biggest investors in Kazakhstan's economy for years with $57.5 billion of investments in total. Over the first three months this year, the U.S. invested about $1.9 billion, which is a twofold increase from the same period last year ($933 million).
As of today, more than 600 joint Kazakhstani-American businesses are operated in Kazakhstan.
Tokayev suggests reforming the UN and lifting sanctions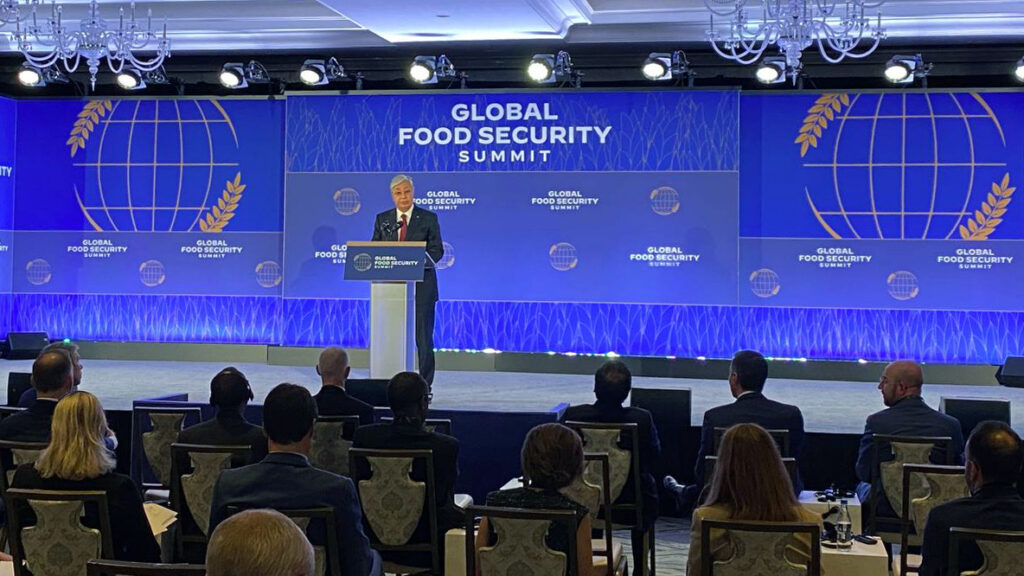 President Tokayev spent his last day in New York at the 77th Session of the U.N. General Assembly and Global Food Security Summit.
He noted that for the first time the world is on the brink of nuclear war for no justified reason. According to Tokayev, all the crises that happened over the last few years effectively illuminated significant loopholes in the global system of governance. That is why nations have to reform the U.N. as a global organization.
During the Global Food Security Summit in New York, Tokayev supported the Black Sea Grain Initiative and said that all food and fertilizer sanctions must be removed. At the same time, Tokayev has presented Kazakhstan's capabilities in terms of transportation and logistics, including its Trans-Caspian International Transport Route.
In addition, Tokayev said that Kazakhstan is going to deploy its agricultural capabilities to fight global shortages of food and continue to serve as a reliable grain exporter. For example, Kazakhstan is ready to expand its cooperation with the Islamic Organization for Food Security and the U.N. agencies involved in the procurement of food for several regions including Afghanistan.
Also, President Kassym-Jomart Tokayev met with Secretary General of the U.N. Antonio Guterres. They have discussed the UN Regional Centre for Sustainable Development Goals for Central Asia and Afghanistan in Almaty. Guterres has expressed his support for the initiative and was invited to come to visit Almaty by Tokayev.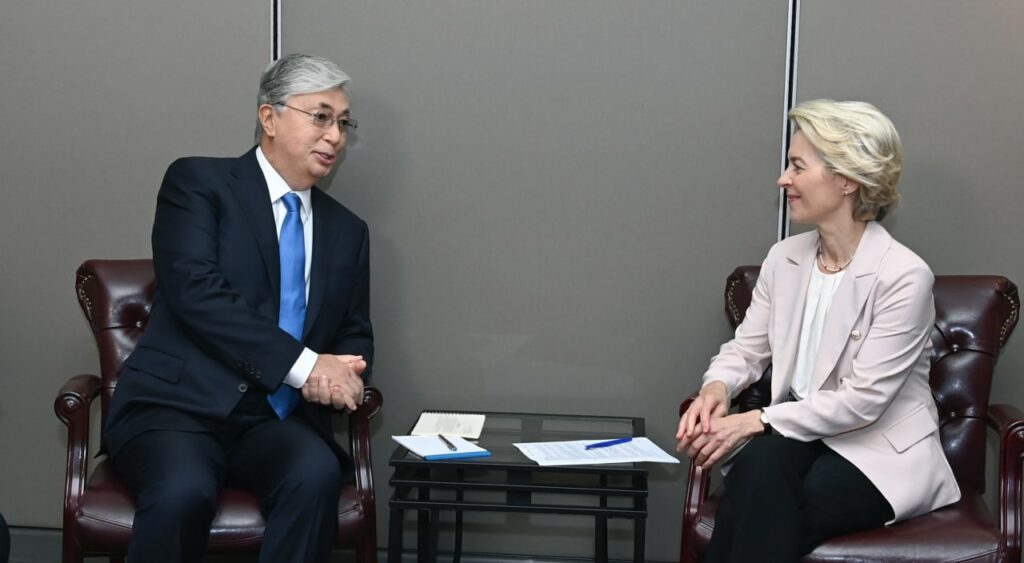 Other important meetings of Kazakhstan's president were negotiations with President of the European Commission Ursula von der Leyen and President of the European Council Charles Michel. The development of the political dialog and expansion of trade and economic cooperation between Kazakhstan and the E.U. was the main topic of their discussions.