Kazakhstan to spend more than $1 trillion on green transition
According to an analysis by the World Bank
Kazakhstan is going to reach carbon neutrality by 2060 and experts are trying to estimate the potential costs of such a transition. In November, the World Bank (WB) announced its assessment of this green transition in the country's energy sector at $1.2 trillion.
Trillion for net zero emissions
The WB's survey shows how the country can reach carbon neutrality and how much it would cost. The key sector of the national economy in Kazakhstan is energy, which accounts for 80% of all emissions in the country, according to the Ministry of Ecology, Geology and Natural Resources. As a result, the WB experts are expecting that the sector's potential input into carbon neutrality by 2060 (the deadline set by President Kassym-Jomart Tokayev last year) must be the same.
According to WB's analysis, electrification is going to be the main trend in the country's energy market over the coming four decades. Energy is set to be the most important product of final consumption as its share will reach 60% by 2060 compared to 20% today. Almost everything is going to be electrified: transportation, housing and production cycles. Generation of electric power in Kazakhstan must reach 260 billion kW/h (a 140% increase) at the expense of renewable sources of energy, which should completely substitute coal energy production after 2040. By 2060 solar (69 GW) and wind (34 GW) power stations must cover 72% of all energy production in Kazakhstan, according to WB.
These figures reflect the key scenario for net zero emission (NZE) in Kazakhstan with expenditures of $1.15 trillion (or 6% of GDP) over 2025-2060. More than half of this money ($660 billion) will be invested into capital stocks. The remaining amount is to cover activities aimed at making the energy system more efficient: switch to heat pumps and electrification of transportation, households, etc.
However, the WB experts have prepared the second, business-as-usual (BAU) scenario as well. In this scenario, the government would spend $920 billion to just gradually update the current energy equipment, which is $230 billion less than planned under the first scenario. 
Modeling studies show that costs linked with solar and wind energy and extended production of gas have virtually equal benefits for reducing expenditures on fossil fuel. This means that the transit to carbon neutrality must be launched as soon as possible.
«If no serious measures to cut carbon emissions in energy-consuming sectors are done until 2030, total costs of decarbonization will increase by $55 billion or 4.8% as more and more new facilities with high carbon footprints are emerging. The more such facilities we see, the less time these entities have to develop low-carbon solutions and cut costs associated with introducing such technologies. For example, if the coal energy sector continues to generate the same amount of energy as it does now and rely on carbon capture methods, the total cost of decarbonization would increase by $45 billion,» the survey said.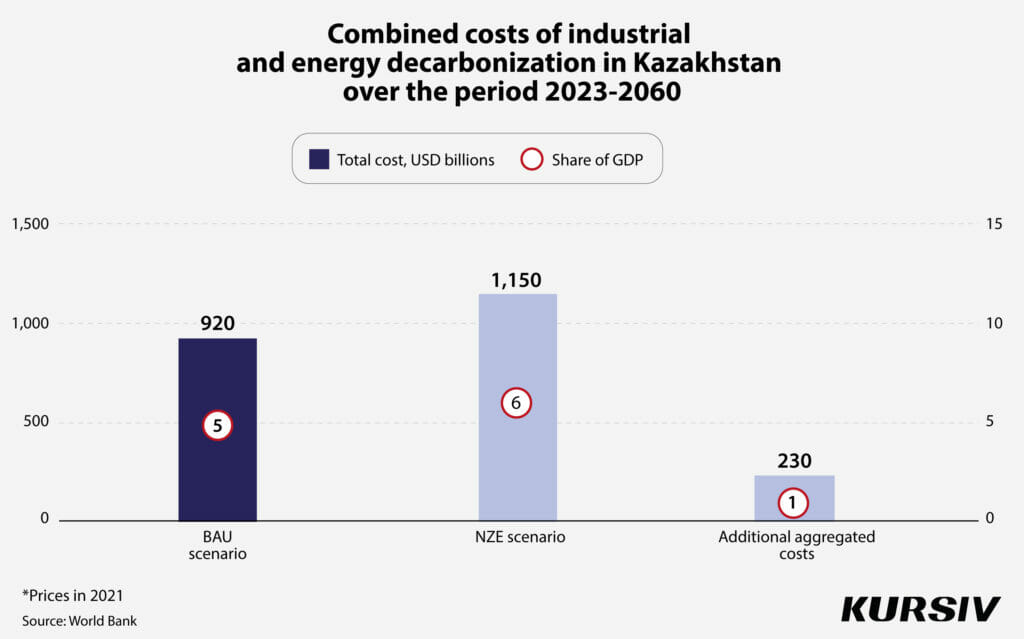 Preliminary calculations
For the first time, Kazakhstan announced its estimated cost of green transition in October last year. At the time, the Ministry of Ecology suggested costs of $670 billion. The agency wanted to invest the larger part of this money ($305 billion or 46%) into updating the energy sector by 2030. The agency thought to allocate the remaining part of this money for modernization in the fields of transportation, industry, housing and agriculture. The ministry wanted to get rid of coal energy by 2050.
Even though the deadline for carbon neutrality in 2060 was set last year, the government hasn't adopted a final plan for how to achieve this goal. The draft document of the Carbon Neutrality Strategy published in August doesn't include any financial calculations.
However, in August the National Welfare Fund Samruk-Kazyna also published its Concept of Low Carbon Development (the holding controls about 35% of energy-generating facilities in the country, including two large coal power stations). Samruk-Kazyna believes that the green transition of the holding would require $20-25 billion of investments. Samruk plans to spend about 80% of this money on the construction of renewable energy sources, nuclear and hydroelectric power stations, combined-cycle plants, and switching from coal to gas (thermal power plant in Almaty).
Gas issue
Gas price is one of the key factors that may affect the process of green transition over the coming 5-10 years. Both Kazakhstani and international concepts of such transition point out gas as a main type of fuel for energy and thermal energy facilities.
However, Kazakhstan may bump into big problems during this transition. The WB analytics noted that all gas-powered thermal energy stations are going to be taken out of service by 2030 because of age and more new investments would be required.
At the same time, gas demand in the domestic market is constantly growing. Several regions of the country still need gasification while gas prices do not reflect the best ratio between demand and supply. So far, gas tariffs aren't attractive from an investment point of view and do not provide a return for operating costs.
The World Bank is recommending adjustments in the mechanism of price setting and subsidizing gas tariffs and reconsidering the structure of the entire gas market. Currently, there is only one actor QazaqGaz, which exports gas abroad and uses its revenue to subsidize domestic gas prices. This is a national company under the total control of the government.
According to WB, a new independent entity authorized for regulating gas prices would be able to create such a balanced tariff. Of course, it would also require a sort of information campaign to explain the move to people, the bank's analytics said.
Meanwhile, Kazakhstan's government has already moved in this direction. In October, the Anti-Monopoly Agency presented its development plan for several industries, including the oil and gas sectors. So far, Kazakhstan along with 24 other countries has the largest subsidies for gas prices in the world. In 2020, this rate accounted for 2.8% of the national GDP.
Once the price setting in the gas sector is implemented by market mechanisms, this will affect the total cost of carbon neutrality as well.