Iveta Dance: "SANTO is establishing an R&D hub in Kazakhstan"
The company has already allocated $12 million for the expansion of its lab and research facility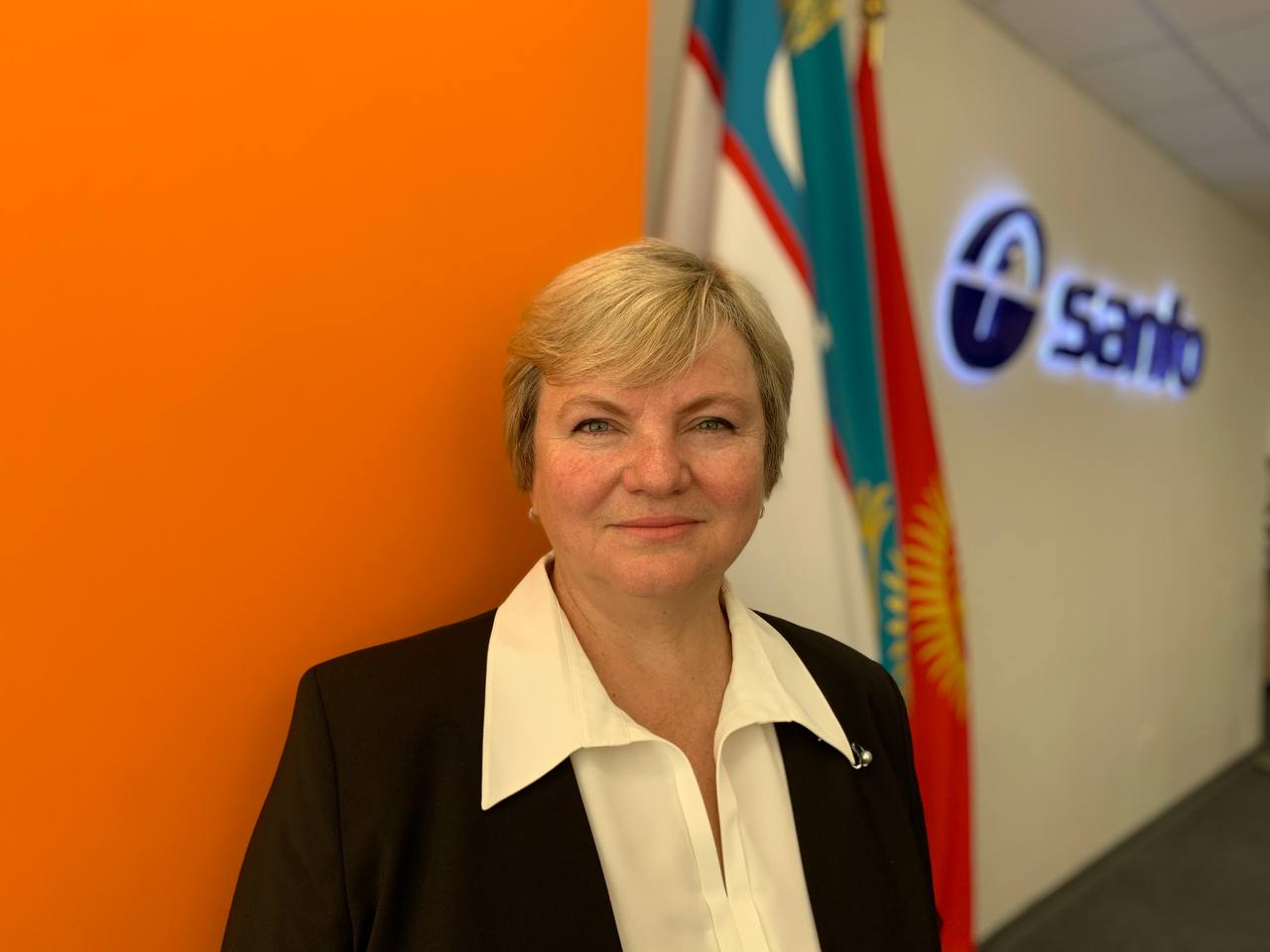 Iveta Dance, head of research, development and project management in SANTO told the Kursiv.media that thanks to its R&D center, the company is able not just to keep the leading position in the market, but also facilitate further development of the entire pharmaceutical industry in Kazakhstan.
SANTO is prone to support research and development activities. What does the company's R&D division look like today?
Indeed, SANTO is not just the largest producer of pharmaceutical products in Kazakhstan and Central Asia, but also a leader in the field of drug research and development. The company's R&D center is much bigger than just a research facility. It also includes a clinical studies team responsible for the safety and efficacy of our products. Moreover, we track the efficacy of every product even after it is officially registered and entered into a market. This is a task for our pharmacovigilance team. Any customer can easily contact them to get clarification about any medicine we produce. You know, there are a lot of non-typical situations like allergies or idiosyncrasies and such feedback is necessary.
Also, we have here in the R&D department a team of specialists who are responsible for drug registration. In Kazakhstan and Kyrgyzstan, which are members of the Eurasian Economic Union (EEU), this team can use similar protocols. However, in Uzbekistan, Tajikistan, Turkmenistan and Mongolia, the team has to work with different national standards.
Another vital part of the R&D department is the project manager. Given that we run loads of different projects simultaneously, he makes sure all of them go as planned.
How many products does SANTO develop on its own?
About 80% of all generic drugs that are produced by SANTO were developed in our laboratory, which was established at the premises of the Research and Test Center of SANTO in Shymkent. The company has decided to develop its research capabilities from the very start. As a result, the research facility is now well equipped and meets international good management practices (GMP). The center's personnel also have all the necessary knowledge and expertise.
We are developing more than 20 items of drugs a year and counting. It is expected that in 2024-2025 we will be developing at least 30 items a year.
One of the most well-known products we produce is the Ambroxol product line, the popular anti-cough drug. We have developed this product line by ourselves with different groups of consumers in mind. For instance, we have Ambroxol in tablets for adults, flavored syrups for children and liquid with no preservatives, colors, or flavors components for inhalation. Moreover, for more serious conditions we have also developed Ambroxol for injections.
Our prior goal is to produce locally as many drug items as we can. We have already been producing a wide range of cardiovascular products that originally were developed in Poland. We took that technology and brought it to Kazakhstan to guarantee the drug provision security of the country at least in this specific segment. Now we are going to do the same for all other medicines.
This strategy already proved its efficacy because during the COVID-19 pandemic, all state borders were closed while the demand for antibiotics like ceftriaxone and azithromycin, which are used for the treatment of serious pulmonology diseases, had risen manyfold. We had all these drugs inside the country. I mean we have been producing them here in Kazakhstan. Even during the pandemic, our plant worked with no delays and we fully met our obligations as a provider of pharmaceutical products.
Several independent surveys have shown that ceftriaxone developed and produced by SANTO is virtually the same as the original product in terms of quality. Thanks to scientific progress, today we can rely on more advanced technologies and active substances than 20 years ago.
Would this have been possible without the research laboratory at SANTO?
The main task for our R&D department is developing those products that have been included in long-term contracts with SK-Pharmacy, an authorized state agency in the field of drugs in Kazakhstan. The government is aimed at providing the country's population with safe, high-quality and affordable medicines. It also wants drug development and production to be conducted in Kazakhstan in order to guarantee national security amid rising geopolitical tensions. In turn, the government commits to purchasing drugs from the SK-Pharmacy list over ten years in a row.
This is a huge incentive for drug producers because we can forget about sales for a while and buy all the necessary substances. On the other hand, this strategy guarantees that the country is developing its own scientific and research potential and can provide medicine for its citizens on its own. The COVID-19 crisis proved the efficacy of this model even during the global supply chain disruption.
What did R&D in SANTO look like before merging with Polpharma and what does it look like today?
Long before we became part of Polpharma Group in 2011, there was a Scientific Research and Test Center in Shymkent. This facility did quite well in terms of developing new drugs. However, the deal with Polpharma has changed this work completely because the center needed to introduce GMP. It was no longer possible to operate as usual.
At the first stage, we just took technology from the Polish plant and brought it to Kazakhstan as we wanted to accelerate the process of new drugs entering the local market. Loads of foreign specialists came here back then. Some of them shared their expertise and left, some decided to stay here and work for a while. At the same time, many SANTO employees traveled to Poland for training at the Polpharma manufacturing site and laboratory. An upgrade of technical capabilities at the Shymkent plant and research facility was conducted in parallel. As a result, all SANTO employees who are currently involved in research and development are locals. This is a result of the serious efforts of Polpharma to share advanced European expertise with SANTO staff.
Do you have any problem with the employment of new people for your department?
We've seen a staff shortage in the market. You can't just find a research and development specialist on the street. A strong professional background is needed. Those who want to work in our R&D center must dream about research. Of course, we know that everyone needs some kind of trial before he would be able to make a final decision. That's why we run a training class, where students from medical universities can learn more about R&D and try the role of a researcher. We have close ties with the three leading universities in Kazakhstan: Kazakh National Medical University in Almaty, the Nazarbayev University School of Medicine in Astana and South Kazakhstan Medical Academy in Shymkent. We even have a candidate for a doctor's degree who is researching an R&D theme.
In the field of R&D, you have to learn new things all the time. For example, we have already implemented GMP under the EEU standards. Now, we are going to introduce the E.U. approved standard of GMP. This is a very ambitious goal for us and we are trying to prepare our staff for this. In the future, we will have more opportunities for students who are interested in research and development in our new facility which is currently under construction.
SANTO already runs a well-equipped R&D facility. Why is the company building a new one?
This is true. We already have a well-equipped laboratory, but a new research center is going to be much more effective because we will be able to develop new products under European GMP standards.
The construction of the new R&D center in Shymkent is the groundwork for the future as the company's senior executives are looking beyond. SANTO has already invested $12 million in its labs and the up-to-date research center. This is a big step forward not only for the company itself but for the entire pharmaceutical industry in Kazakhstan.
The current research facility is not that big. We can't expand our work here, so the new one will provide us with plenty of space for research activities and training classes. There will be no problem with extra space in the new R&D center. This means that we will be able to expand our work and take on new projects. For instance, we can develop products for other companies under GMP standards adopted by the E.U.
In order to achieve this you have to implement this European GMP first, right?
Correct. But let's not forget that the drug requirements in the EEU are not that different from the E.U. standards. We are quite experienced in getting Kazakhstan's registration for drugs produced by Polpharma. All we need to pass through this procedure is the producer's record material. So, when we will start the process of registration in the E.U. of drugs produced in Shymkent, we also won't be required to provide additional data. But of course, we have to implement the E.U. GMP on the plant first. No doubt, we will do that very soon; it is only a matter of time. Even though we want to enter the common market in Europe, our main focus is on Central Asia. And this new research center of SANTO in Kazakhstan is going to be a unique R&D hub for the entire Central Asian region. Once the new research facility is opened, we will be able to develop and produce drugs that will be available throughout the region and Europe. And all of them will be labeled with the «Made in Kazakhstan» mark.