Key merger and acquisition deals in Kazakhstan this year
Two main factors shaped the M&A process in 2022
Two main factors have shaped the M&A market in Kazakhstan in 2022. First, Western sanctions against Russian businesses pushed them to the decision to sell their assets in Kazakhstan in order to avoid serious damage for them. In turn, Kazakhstani businesses took advantage of the situation.
The second factor is the desire of Kazakhstani companies to take their business to a new level. In some cases, businesses tried to improve their technological capabilities to further digitalize their products and services. In another case, a Kazakhstani company has chosen to merge with a foreign actor to play globally.
M&A and sanctions
The banking sector in Kazakhstan went through a real ordeal this year. Right after the Russian invasion of Ukraine, the U.S. government imposed sanctions against Sber and VTB, two of the largest Russian banks that used to run subsidiaries in Kazakhstan. In April, the U.S. beefed up its pressure on Sber by imposing blocking sanctions against the bank. Another Russian bank, Alfa, was also affected by the U.S. sanctions which were also supported by other Western countries.
Sber and Alfa subsidiaries in Kazakhstan were also affected by Western sanctions. For example, they couldn't conduct transactions in foreign currencies. This is the reason Russian banks decided to sell these Kazakhstani assets.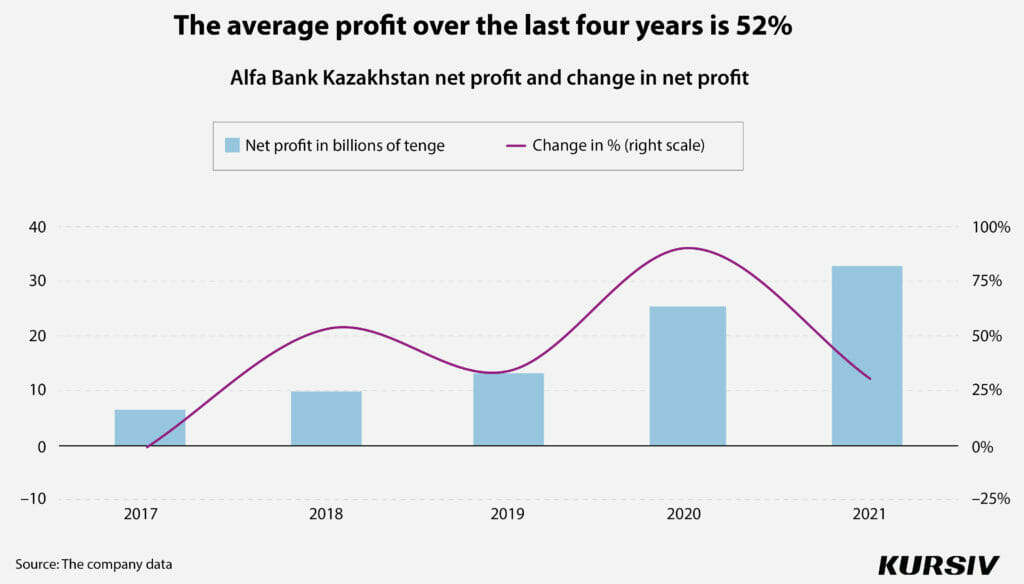 It wasn't hard to sell Alfa because this bank had shown good financial results for the past four years in a row. In May, Bank CenterCredit (BCC) announced the acquisition of 100% of the stocks of Alfa Bank Kazakhstan. The two sides refused to reveal the price. Initially, the bank was renamed Eco Center Bank, but in September it was merged with BCC.
Over the first ten months of this year, BCC reported an 82% growth in assets and a 60% increase in its portfolio.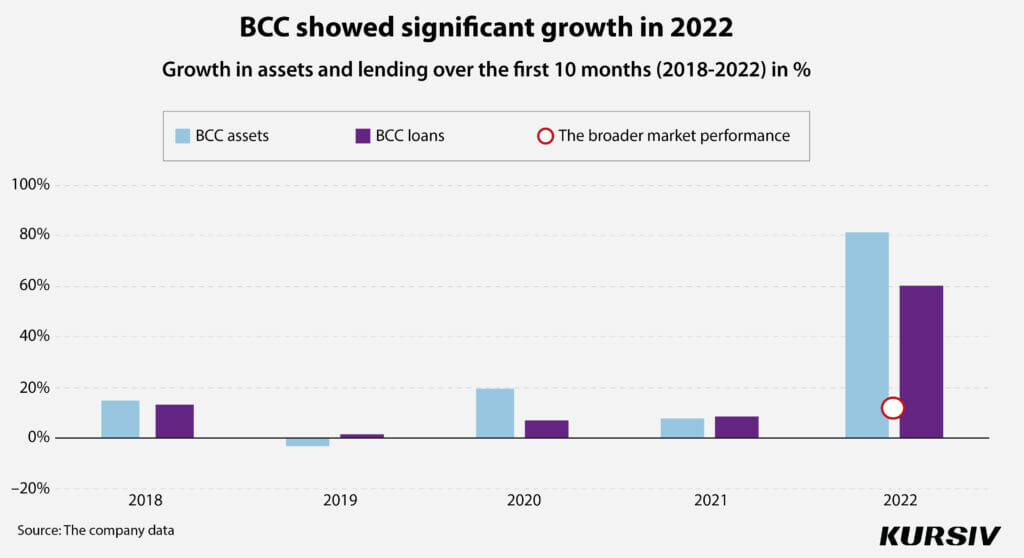 This was the first time the bank showed such an impressive result in the last five years and the reason for this growth is the acquisition of Alfa, which was ranked 11th in terms of assets in 2021.
Sberbank Kazakhstan on the other hand played a much more important role in the banking sector of the country and was ranked second in 2021. As a result, it was not an easy task to find a buyer for this asset.
In August, the National Management Holding Baiterek announced the acquisition deal with Sber. Even though no financial details of the deal were revealed, the holding noted that it took into account the importance of the bank for the entire financial system of Kazakhstan while making a final decision on the deal.
Sber's subsidiary in Kazakhstan was not only an important actor in the banking system but also quite a profitable asset. In 2021, this bank reported $274 million in net profit, or a 115% increase compared to 2020.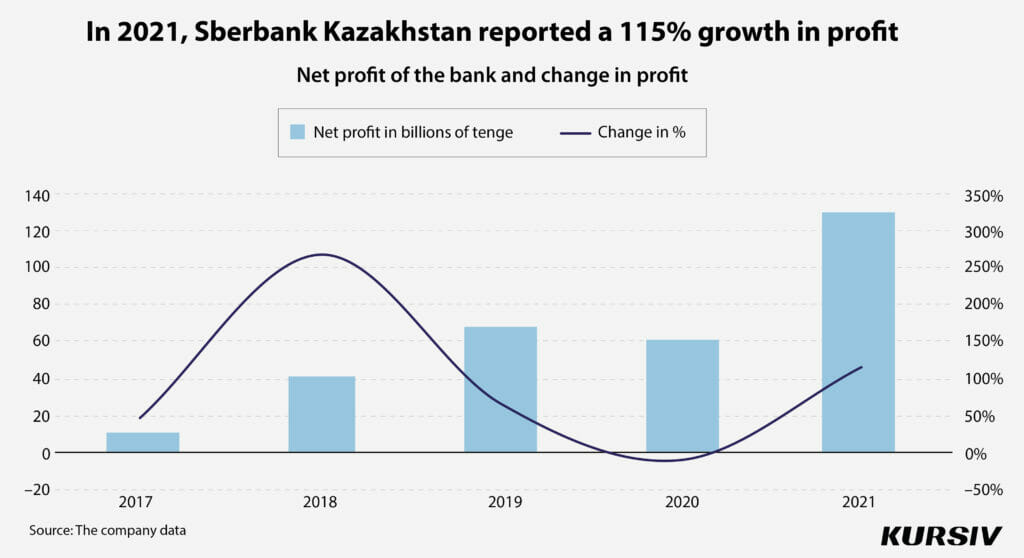 More Freedom
Another sector with high-profile M&A deals was the insurance market. The key trend in this field is the further strengthening of Freedom Holding Corp. (Kazakhstani businessman Timur Turlov is a majority shareholder in the company).
In August, Freedom Finance Insurance (part of the holding) bought the London Almaty insurance company from Dostyk Leasing. It is expected that the process of merging will be completed in December 2022.
Freedom Finance Insurance, where Timur Turlov is the only stakeholder, has become an official assignee of London Almaty, taking all rights and liabilities of the company.
Last year, London Almaty received more than $16.4 million in premiums, where voluntary health insurance (20%), property insurance (25%) and mandatory car insurance (25%) were the main contributors to the company's revenue.
On the other hand, Freedom Finance Insurance relies more on car insurance (71%). The company earned $13 million in premiums last year. Freedom Finance Insurance was the first company in Kazakhstan to issue digital insurance certificates. To get such a certificate, a client only needs to provide his or her mobile phone, individual identification number and license plate number of a car.
While commenting on the deal, Turlov said that London Almaty's experience in the sphere of corporate insurance plus Freedom Insurance's expertise in retail sales of mandatory car insurance will let the company focus on direct sales and better digital services. «We are going to develop our insurance business within our digital ecosystem. We will announce new digital products very soon,» he said.
Updates in the sphere of IT
In December 2021, Freedom Holding Corp. announced its intention to acquire payment aggregator PayBox.money and online ticketing service Ticketon. There is no open information about when and at what price Freedom Holding Corp. bought those services, although the holding's consolidated financial report for the first six months of 2022 said that the group has acquired three companies: PayBox, ReKassa and Ticketon.
PayBox was established eight years ago. This is a provider of online payments for digital businesses. «Paybox is widely popular in Kazakhstan and is now going to tap into the market in Kyrgyzstan,» the holding said in its official report.
ReKassa promotes its PCI Reader, a mobile and desktop app designed to replace traditional cash machines. Ticketon is the largest online ticketing company in Kazakhstan.
In June 2022, some media reported that PayBox is going to be renamed Freedom Pay. Indeed, the company has updated its online client area, payment forms and client material. Later, CEO of the PayBox.money group Roman Minikeev told Economist.kg that rebranding took three months. This means that the acquisition deal was in January 2022.
According to Turlov, the payment service is going to boost the holding efforts to further develop its online acquiring, lending and sales in installments. As of June 2022, Freedom Pay accounted for 25% of the domestic market of internet acquiring.
In July 2022, Prime Source, the largest software developer in Kazakhstan announced an M&A deal with American FatBrain AI. Prime Source is well known for its digital systems aimed at early identification of money laundering. Currently, the company offers businesses different software products to optimize business processes and database integration. The company's portfolio includes more than 500 projects in the financial sector, telecommunications, industry sector and public sector.
However, during the press conference with Evgeny Scherbinin, one of the Prime Source founders, and Peter Ritz, CEO of FatBrain AI, they noted that this is a plan to «join forces» not a direct M&A, as the two sides want to share their experience and technology. For instance, the American company has huge expertise in machine learning and direct access to the global market. On the other hand, the Kazakhstani developer has dozens of experienced IT specialists who work on a set of promising products. According to Ritz, FatBrain is going to facilitate the Kazakhstani partner with scaling up its business. The two sides also said that they have been developing a joint cloud product for middle-sized businesses. Kazakhstan is going to be the first market where this product will be available for commercial use.
Follow us on Google News