Ministry of Energy assesses repair cost of thermal power stations in Kazakhstan
The Ministry of Energy reviewed all 37 thermal power stations (TPS) in Kazakhstan and has split all of them into three groups. The red zone includes 19 stations, the yellow zone – 11, and the green – seven, according to Minister of Energy Bolat Akchulakov.
The analysis is based on four key factors: equipment deterioration, the number of technical failures, service life and lack of staff.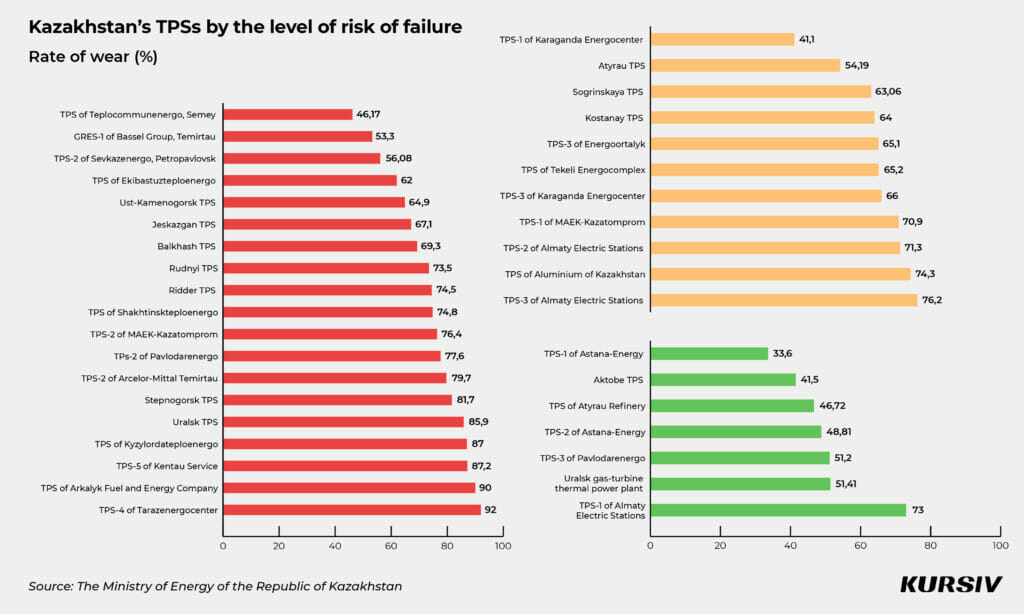 Kazakhstan's TPSs are worn-out by 66% on average. However, the rate is higher than 80% in Uralsk, Stepnogorsk, Taraz, Kyzylorda and Kentau. According to Akchulakov, TPSs reported 5% more technical failures in 2021 than in 2020. He didn't provide figures for 2022.
«The average service life of a TPS is 61 years. The vast majority of our stations (76%) have been working for more than 50 years. Now we want stations in the red zone to repair their key equipment, and receive reconstruction and modernization to reduce risks of failures next year,» said Akchulakov
The ministry estimates that the significant overhaul of 19 TPSs in the red zone will require $388.4 million.
«We already have $198.4 million received from the current energy and heat tariffs,» he added.
At the same time, the official admitted that the current tariffs for electricity and heat do not cover all maintenance or repair expenditures. TPSs need additional money in the amount of $187.8 million. That's why 12 TPSs that are controlled by the government will be repaired at the expense of the state budget, while owners of 22 private stations must do the same on their own.
Minister of Industry and Infrastructural Development Kairbek Uskenbayev believes that the modernization of the country's heating infrastructure will require more than $4.2 billion and take 14 years to update.
On December 12, President Kassym-Jomart Tokayev ordered the cabinet to allocate funds for the overhaul of all TPSs in trouble. Private stations must be updated at the expense of their owners under the Tariff in Exchange for Investments Program, according to the president.  He also pointed out the extremely poor condition of the heating and sewing infrastructure and demanded the cabinet take urgent action.
The power and heating industry in Kazakhstan has been going through tough times. Often owners of private TPSs were reluctant to invest in proper maintenance and repair of stations. As a result, several large failures occurred at TPSs in different cities throughout Kazakhstan recently.