Magnus Carlsen wins world chess championship in Almaty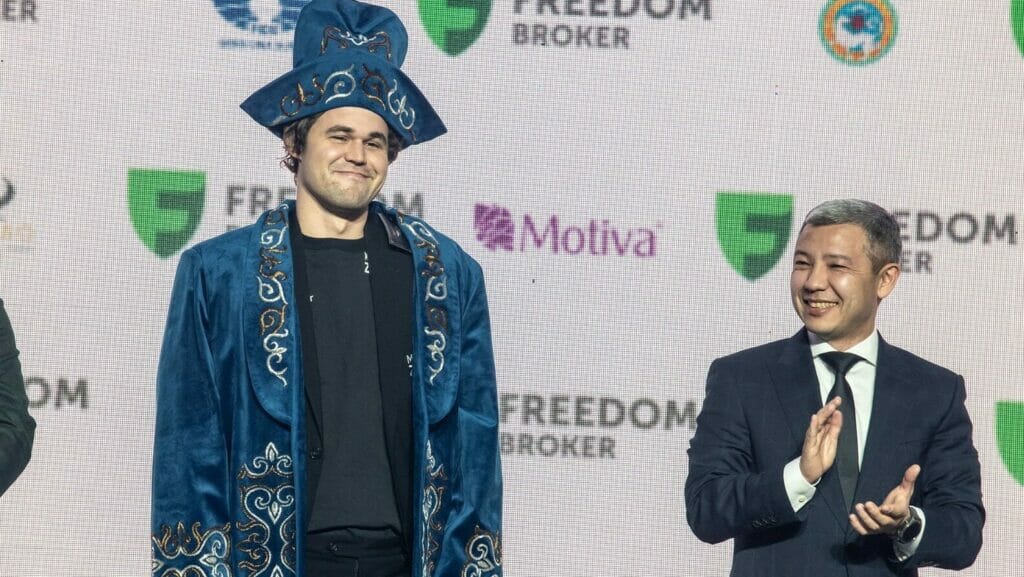 Photo: twitter.com/MagnusCarlsen
Magnus Carlsen, a 32-year-old grandmaster from Norway has become a Rapid World Champion during the international chess tournament in Almaty, according to the Chess Federation of Kazakhstan.
Carlsen scored 10 points, while his opponent Vincent Keymer, an 18-year-old chess grandmaster from Germany, has taken second place with 9.5 points. Fabiano Caruana, a 30-year-old chess player from the U.S. has ranked third. He also scored 9.5 points.
Kazybek Nogerbek showed the best result among Kazakhstan's chess players. He scored 8 out of 13 points and took 35th place.
In the women's rapid match, the best result has been demonstrated by Tan Zhongyi from China. Kazakhstani Dinara Saduakassova is second and Savitha Shri from India took third place.
Magnus Carlsen is the 16th World Chess Champion. He's kept the title in three different categories. Carlsen has been the chess classic world champion since 2013. In 2014-2016 and 2019, he was the rapid world champion. In 2014-2017 and 2017-2019, he was the blitz world champion.
Earlier this year, Carlsen announced that he won't fight for the title of world chess champion next year, so the chess tournament in Almaty was the last time he played rapid and blitz as chess classic world champion.
The 2022 FIDE World Rapid Championship in Almaty started on December 25 and will last until December 30. The prize fund of the championship is one million dollars. The chess event has been organized by FIDE and the Chess Federation of Kazakhstan. The Almaty city administration and the Ministry of Culture and Sports have also supported the tournament.
The general partner of the event is Freedom Broker which provided the entire prize fund. Among other partners are Lancaster Group, Shokan Ualikhanov School, Chess Legends, Tioline and Turan (mineral water producer), Coca-Cola, the National Welfare Fund Samruk-Kazyna and and Sport Qory (Tourism and Sports Industry Support Fund).