Kazakhstan to attract more investments in geological exploration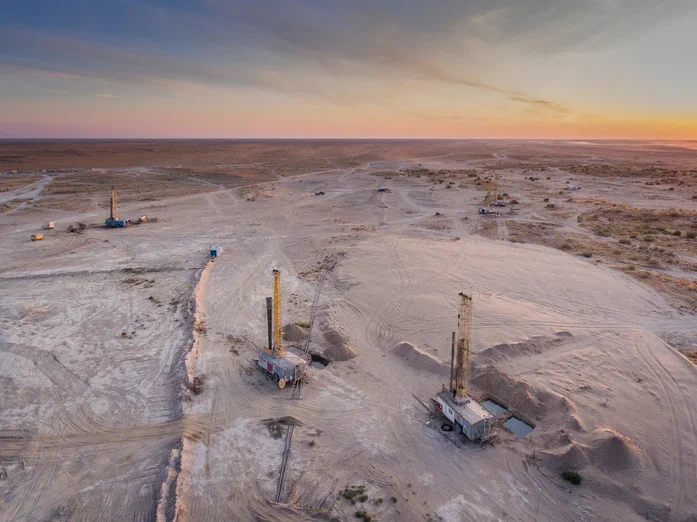 The country is going to sign a contract on geological exploration / Kursiv.media
Kazakhstan is awaiting an additional $2 billion of investments in geological exploration as the government is working on a new and improved model-based contract in this area, reported Ortcom.kz citing Minister of Energy Bolat Akchulakov, who took part in the meeting with Kazakhstani entrepreneurs.
According to Akchulakov, under the contract, Kazakhstan must provide an investor with a set of regulatory and fiscal preferences for oil and gas exploration and production. The official said that the government has already signed a similar contract with KazMunayGas (KMG). The company is going to invest about $6 billion in the Kalamkas-Sea, Khazar and Auezov fields in the Caspian Sea. KMG will develop this project in conjunction with Russian Lukoil, which is a strategic partner of the project.
In December 2022, a new petrochemical plant started its operation in Kazakhstan. With a capacity of 500,000 tons of polypropylene per year, this plant alone is able to cover the country's internal demand for this product. In addition, Kazakhstan is implementing four other big projects worth $12 billion linked to the production of polypropylene, butadiene and its derivatives and polyethylene terephthalate, Akchulakov highlighted.
«The Ministry of Energy is planning to facilitate import phase-out, introduce up-to-date standards for new products, improve the legal framework and promote the domestic petrochemical industry to make it meet the needs of the national economy,» he said.
Prime Minister Alikhan Smailov believes that all these measures might be implemented immediately and there is no need to wait for a specially designed law.
He ordered the cabinet to accelerate the introduction of a model-based contract to attract new investments and continue to decrease administrative pressure on the business. According to the prime minister, the cabinet is going to cut about 800 excessive requirements for oil and gas companies.
«We closely cooperate with the business community and the National Entrepreneur Chamber Atameken. The cabinet is ready to continue working this way,» Smailov underscored.
Apart from this, the meeting participants also discussed various issues of taxation, geology, environment protection, oil exports, oil industry transparency and better procedures for launching production on new fields. The prime minister wants the cabinet to solve all these issues by keeping a balance between the interests of the state and retail investors.
During its 32-plus years of independence, Kazakhstan managed to increase its oil and gas condensate output more than threefold from 25 million tons to 90 million tons a year. According to OPEC, Kazakhstan is one of the leading oil producers in the world.