Kazakhstan confirms that it is ready for the role of regional food hub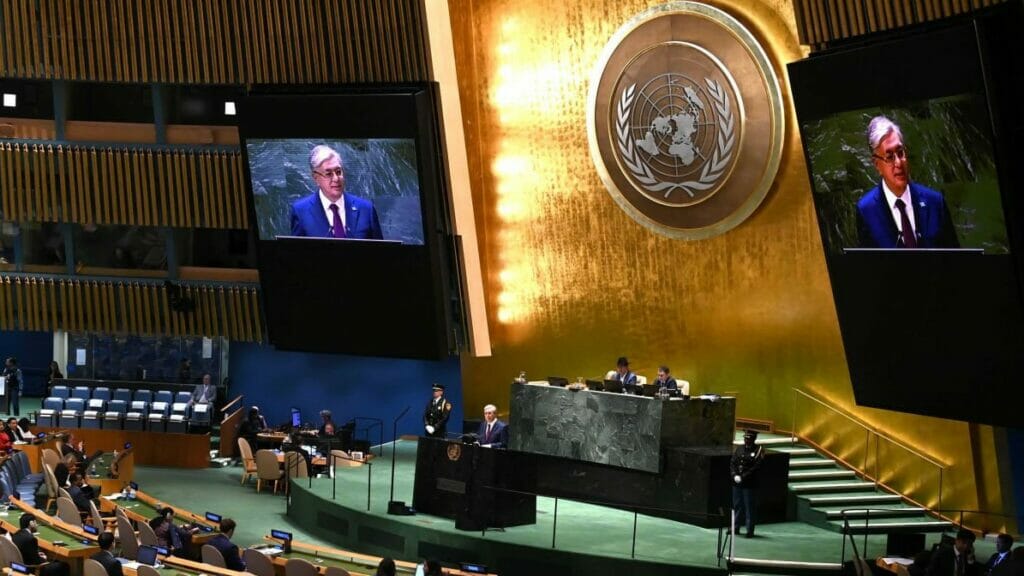 President Tokayev said that Kazakhstan has all the necessary resources, infrastructure and logistics to play the role of a regional food hub / Photo: Akorda
According to President Kassym-Jomart Tokayev, Kazakhstan is ready to act as a regional food hub. He made this statement while delivering his speech at the 78th session of the U.N. General Assembly in New York.
What did the president say? As Tokayev noted, the country has the resources, infrastructure and logistics necessary to play the role of a regional food hub.
The president also highlighted that Kazakhstan is already accounting for about 80% of transit shipments between Asia and Europe by land.
What is the leverage to promote trade here? Tokayev believes that the Trans-Caspian International Transport Route (TITR) may play a crucial role in strengthening the interaction between the East and West.
«This route is capable of boosting trade between key markets because it is twice as fast for shipping goods than the sea route,» Tokayev said.
As of July 2023, the amount of shipments that went through TITR in January-June reached 1.3 million tons, nearly double the amount from the same period of 2022.
According to the Ministry of Industry of Kazakhstan, in order to deliver cargo by TITR 18 to 23 days are needed, while at the initial stage, this process required 53 days. This timeline is going to be cut to 10 to 15 days in the future.
TITR stretches from China through Kazakhstan, the Caspian Sea, Azerbaijan and Georgia to Europe. The work of TITR is supported by 20 different companies, including railway administrations, ports, ship operators and transport companies from eight countries. All of these ensure the smooth transportation of containers with goods by railway and ships via the Caspian Sea.