KazTransOil reaches agreement with Russian Transneft on oil transit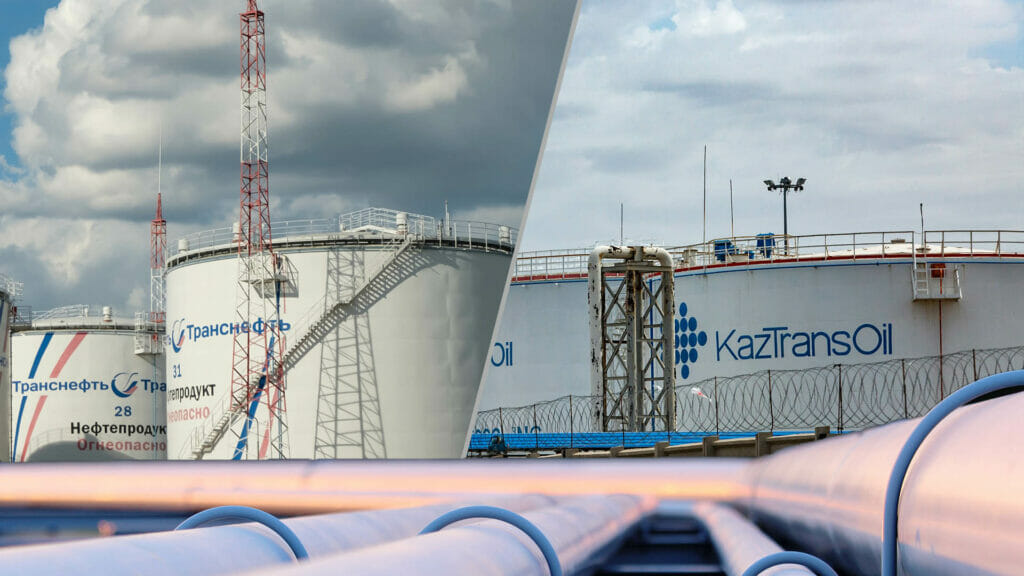 Russian Transneft and Kazakhstan's KazTransOil have reached an arrangement on oil transit through Russia / Photo: Shutterstock

According to Transneft, the company has signed an agreement with KazTransOil on the transit of Kazakh oil through Russia next year.
«After negotiations between Transneft and KazTransOil the two companies have signed an updated memorandum on cooperation and an agreement on rendering services on transportation of Kazakh oil by transit through Russia in 2024,» the company said in a statement.
The negotiations were part of an official visit to Kazakhstan by a delegation of top executives from Transneft. During this visit, the company's CEO Nikolay Tokarev met with President Kassym-Jomart Tokayev. They discussed a range of issues related to cooperation between the two countries in the field of energy transportation and, in particular, the status and prospects of cooperation within the framework of the Caspian Pipeline Consortium (CPC).
The Russian delegation also held talks with Board Chairman of KazMunayGas (KMG) Magzum Mirzagaliyev and General Director of KazTransOil (a subsidiary of KMG) Talgat Kurmanbayev. At this level, the two sides have discussed some of the more practical aspects of mutual cooperation in the sphere of transportation of oil, including interaction within the CPC.
In June, KMG and Rosneft Deutschland signed an agreement on the supply of 100,000 tons of oil per month through the Druzhba oil pipeline from Kazakhstan to Germany. According to the plan, Kazakhstan is going to supply Germany with 890,000 tons of oil this year. However, under the arrangement with Russia, KazTransOil should ship 1.2 million tons of oil through this route. At the beginning of the year, the country supplied just 20,000 to 50,000 tons per month: 20,000 in February, 20,000 in March, 50,000 in April, and 100,000 each in May, June, July and August. All this oil was produced at the Karachaganak oil field.
In the summer, Minister of Energy Almasadam Satkaliyev said that although Kazakhstan would supply 100,000 tons of oil to Germany per month, it is exploring the possibility of increasing oil exports.
In 2022, Germany imported 88.2 million tons of oil, a quite significant increase compared to 81.3 million tons in 2021. Despite the obstacles of exporting oil to Europe after the full-scale invasion of Ukraine in February 2022, Russia managed to export 22.4 million tons of oil to Germany last year. Moreover, oil from Kazakhstan can't substitute Russian exports to fully meet Germany's needs. However, Tokayev promised German President Frank-Walter Steinmeier in June of this year that Kazakhstan would provide Germany with energy, including oil.
Last year, the U.S. delivered 12.1 million tons of oil to Germany, while Kazakhstan delivered 9.1 million tons. Most of that oil came to Germany from Italy, which is the largest importer of Kazakhstani oil. Kazakhstan started exporting oil to Germany via the Druzhba pipeline after this country decided to stop importing Russian oil. This year, Kazakhstan was expected to ship 1.2 million tons of oil. At the same time, the country's Ministry of Energy believes that Kazakhstan can export five million tons of oil per year via this route.
In September 2022, the German Ministry of Economy transferred Rosneft's subsidiaries in this country, namely Rosneft Deutschland GmbH (RDG) and RN Refining & Marketing GmbH (RNRM) to the Federal Network Agency (BNetzA). As a result, BNetzA took over Rosneft's stakes in three German refineries: PCK Raffinerie (Schwedt, 54.17%), MiRO (Karlsruhe, 24%) and Bayernoil (Vogburg, 28.57%).