President Tokayev wants Kazakhstan and Germany to intensify cooperation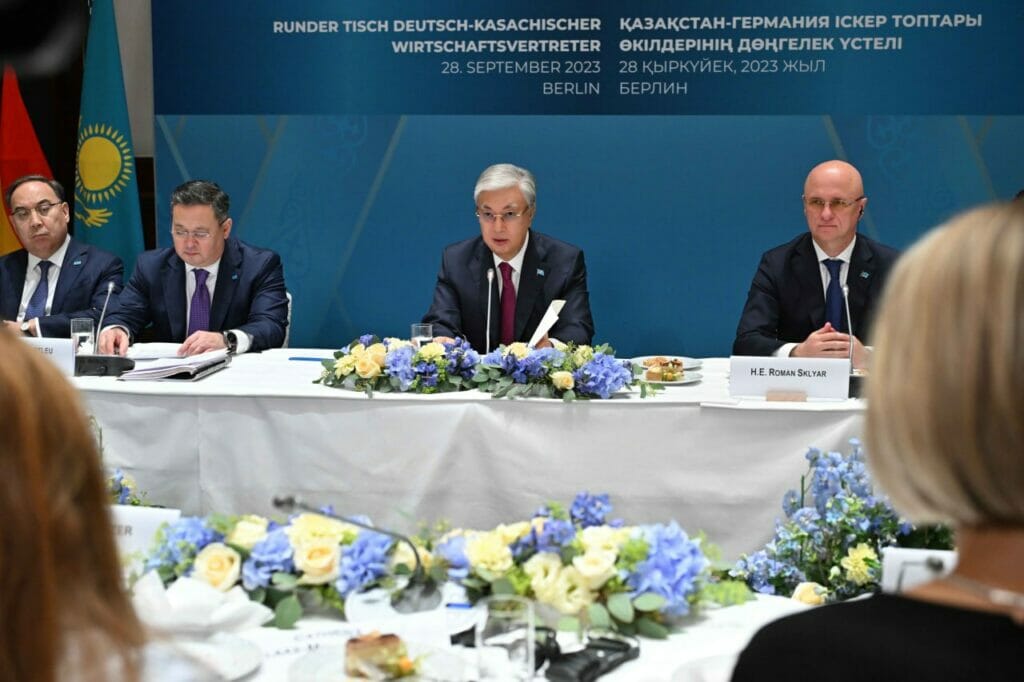 German businesses have invested more than $6 billion in Kazakhstan, according to Tokayev / Photo: Akorda

During the meeting of business circles of Kazakhstan and Germany President Kassym-Jomart Tokayev of Kazakhstan said that his government is interested in establishing new companies that can produce goods under the formula «Made in Kazakhstan with German quality.»
What did Tokayev say? Kazakhstan's president expressed his admiration for the German approach to doing business based on the principles of determination, precision and responsibility.
«Kazakhstan is ready to become a reliable partner in the sphere of natural resources and critical raw materials needed by the German and European industries,» he said.
According to the president, global demand for critical materials and rare earth metals is going to quadruple by 2040, while Kazakhstan has more than 5,000 unexplored fields with reserves worth more than $46 trillion, according to the World Bank.
«That is why I have proposed to Chancellor Olaf Scholz to create a consortium that would be able to implement joint projects in the sphere of raw materials. This initiative will let us bring our cooperation to a new level. All private German investors are welcome to join this consortium,» Tokayev stated.
How much have German businesses invested in Kazakhstan? According to President Tokayev, even during the geopolitical turmoil last year, trade between the two countries grew by 25% and reached $2.8 billion. By and large, German businesses have invested nearly $6 billion in Kazakhstan, Tokayev noted.
«Our non-commodity sector accounts for about 90% of these investments. There are more than 1,000 companies with German capital in Kazakhstan,» the president said.
In August, high-ranked officials from the German government confirmed that the country is interested in buying more oil from Kazakhstan.
Over the period from January to July of this year, Kazakhstan exported 390,000 tons of oil to Germany, including 20,000 tons in February and March; 50,000 in April and 100,000 in May, June and July.
In addition, Kazakhstan's Creada Corporation and Germany's HMS Bergbau AG have already agreed to cooperate in exploring, mining and processing rare metals in the East Kazakhstan region. Rare metals are in high demand globally due to a surge in the production of electronics, magnets, batteries and other high-tech products. The expected cost of the joint project is $200 million. As of July 4, Creada Corporation was controlled by KAZ Lithium Ltd, registered at the Astana International Financial Center. The final beneficiaries of the company aren't disclosed, though.