Chinese Geo-Jade Petroleum will launch exploration of Pridorozhnoe gas field next year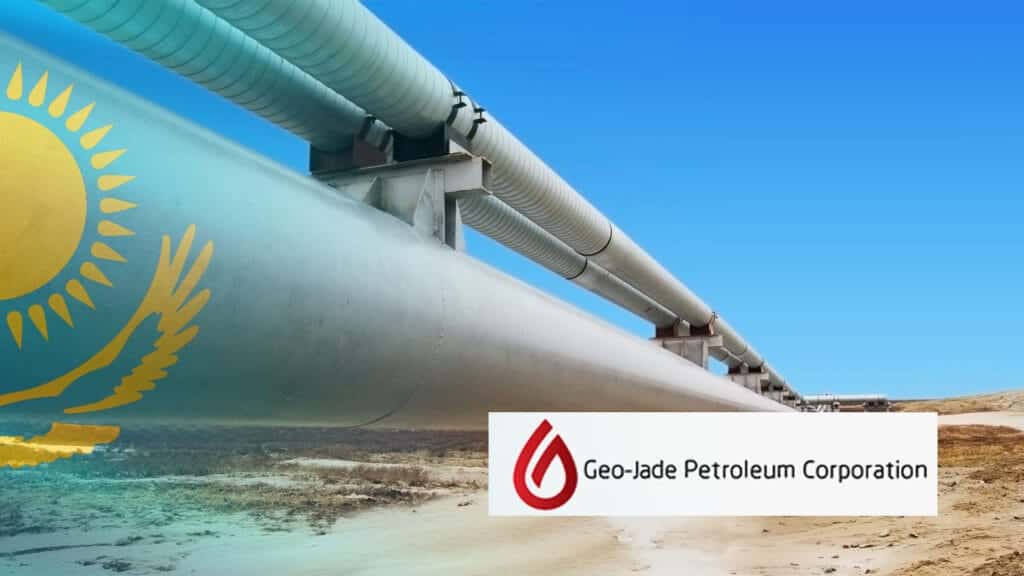 Geo-Jade Petroleum is going to launch an exploration of the Pridorozhnoe gas field in 2024 / Photo: Shutterstock
QazaqGas, the national gas company in Kazakhstan, and Chinese Geo-Jade Petroleum Corporation are going to work together to develop the Pridorozhnoe gas field in Kazakhstan, according to the press service of QazaqGaz.
«On October 17, Sanzhar Zharkeshov, chair of the management board of QazaqGas and Xiaoping Dai, president of Geo-Jade Petroleum Corporation, signed heads of agreement. The document was signed during the Belt and Road Initiative summit where Kazakhstan's delegation led by President Kassym-Jomart Tokayev took part,» the company said in a statement.
The agreement is going to be the basis for joint efforts in the exploration of the Pridorozhnoe field. Design work is expected to start next year.
«Increasing the reserve base is one of the key goals for QazaqGas. We are taking every possible measure to strengthen our country's energy security. That is why QazaqGas in conjunction with the Ministry of Energy and the fund of Samruk Kazyna is undertaking deep reforms of the gas industry in order to make it more attractive for foreign investors whom we are inviting to take part in the exploration of our gas fields,» Zharkeshov said.
Moreover, on October 17, QazaqGaz (a subsidiary of Samruk Kazyna) and PetroChina International signed a new contract on the gas export for 2023–2026, according to the gas company. During the current year, Zharkeshov met with executives of China National Petroleum Corporation (CNPC), PetroChina International and TapLine in order to discuss the terms and perspectives of a new export contract with China. However, no details of the contract with the biggest buyer of Kazakhstani gas were provided.
QazaqGaz runs the centralized infrastructure for the transportation of gas via main pipelines and the gas distribution grid. It is in charge of gas exports and gas supply for domestic customers. The company also designs, builds and exploits gas pipelines and gas storage facilities. The network of main pipelines controlled by the company is more than 20,600 kilometers in length (2,793 km are gas conduits) with an annual capacity of 255 billion cubic meters of gas. The length of the distribution gas grid is more than twice as long as the pipelines and is about 59,000 kilometers.
Kazakhstan's exports of gas to China have been gradually decreasing over the past few years as domestic consumption surges. As a result, QazaqGaz's ability to subsidize gas prices on the domestic market at the expense of high export prices is also in decline. To cope with the problemб QazaqGas is trying to revise its tariff policy by picking some new groups of consumers who have to pay the same price for gas as foreign importers do. One group of such customers are digital miners, who use gas-fired power stations to produce the energy they need for mining. Some other industrial consumers do the same.
In 2022, Kazakhstan reported 26 billion cubic meters of commercial-grade gas reserves. The annual domestic consumption amounted to 21 billion cubic meters of gas, while five billion were sent for export. About 4.3 billion cubic meters of gas were exported by QazaqGas (5.7 billion cubic meters in 2021).
According to the company, it was forced to take about 57.3 million cubic meters of Turkmenistan's gas from storage in December 2022 and January 2023 due to cold weather at the time and pay $53 million ($35 million for taking gas from storage and $18 million for gas shortfall) in fines.
In 2022, some big gas producers failed to supply 2.4 billion cubic meters of gas because of overhauls on their facilities. At the same time, domestic consumption of gas surpassed four million cubic meters per hour and broke a historic record. QazaqGas even stopped exports of gas in December 2022 and January 2023 and covered the shortage at the expense of the Kazakhstan-China main pipeline.
As Arman Kassenov, deputy chair of QazaqGas, told Kursiv, the second line of the Beyneu-Bozoy-Shymkent pipeline will have a capacity of 15 billion cubic meters of gas. The line is expected to be fully operational by 2026-2027. According to the official, specific dates and costs of the project must be negotiated with the Chinese side. QazaqGas and CNPC run the current line of the gas pipeline on an equal footing.
QazaqGaz has also warned that it can stop exports of gas to China this winter as well in order to cover expected shortages of gas during this period. The company uses its revenue from exports to cover losses from gas supply on the domestic market where prices are lower than at the border with China.